Those that follow my blog have discovered a vast majority of hodgepodge and the occasional, news worthy item.  Often it is difficult to write of anything that seems 'real' in this era of dissociation via the internet, texts, emails and lack of face to face, realism.
However, I put my cynicism aside…for one day.  I will be sappy and sweet and somewhat, how should I put it, down right approachable.  A look I do not wear well.
Why is it that the skinny, the touched up, the photo shopped and the endowed with Greek God good looks…still seem to be those in which we place our admiration?
Everyday, every waking hour, every moment of my adult life…I see the housewives, the single mothers, the waitress and the barber.  I see these women struggle with what their dreams once were…and,now, have been placed aside.  Placed aside out of nothing more than for the betterment of others.
Whether it is that breakfast you just had.  Two minutes before the kitchen shut down.  No matter how wonderful the taste….you had been served.  You day just went from bad to okay.
Or, perhaps, your morning included a shave and a hair cut.  No big deal.  Something you do…once a week.  Once a week exactly at ten o'clock, you open a door to an establishment that has embraced your cranky, quirky way of how you think a buzz cut should go.  As always, you are greeted by a woman who knows you better than your wife.  She smiles, dusts the old leather barber-ing seat off and says,
"How's the wife, Hank?"
I am a feminist.  A feminist in the truest sense of the word…the women I have met have always made me strive to be the best woman…I can be!
Though many of my readers are not from New Hampshire…All of my readers are intelligent, caring and wise persons…searching for a better world through the written word.
Please take a moment and read the following story of a slightly Dented Saint.  Slightly off Point Princess.  The unsung heroine…she lives near me.  But you may know of one or two…in your home town.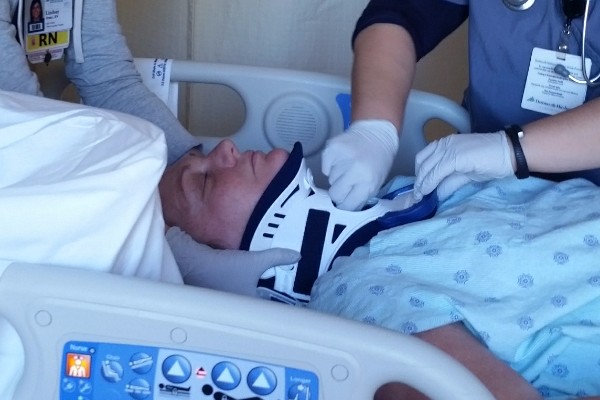 She is a Mom, a Sister, a Daughter, a Love,  a Niece, an Aunt,  Friend,  and everyone's favorite Barber.
Sande Lamanuzzi is an avid Outdoor Enthusiast, Horse Lover and someone you wont typically find standing still for long. The photo below was taken just a few days before the accident while she was vacationing in one of her favorite places, Arizona.
As her sister, I can tell you she is a powerhouse, and a force to be reckoned with. She is someone you want by your side. She is strong, yet compassionate, and would do anything to help someone in need.
Now, she is in need, and I hope you, all of her friends, family, neighbors, customers and community, will come together to help her.
Sande was involved in a horrible car accident on Wednesday, March 25th, and suffered a broken neck.
She is currently in Dartmouth Hospital in Lebanon awaiting spinal surgery that will fuse her C1 and C2 vertebrae and implant 4-6 screws to stabilize her head and neck. By the grace of GOD she was not paralysed in this accident, however, her road to recovery will be a steep mountain to climb and I want to believe that we all will be there supporting her the whole way. Not just financially, but physically, spiritually, and mentally as she will need all the support she can get. From doing errands to rides to doctors appointments and physical therapy.  As I said previously, she doesn't stay still, this is taking its toll on her just having to lay flat on her back and unable to move freely, (something she hates!)
As we all know, Sande has run "Sande's Casual Cuts" in Franklin, NH, for 30+ years. She is self-employed and if she is not cutting hair, she is not making money. She supports herself so this means she will need money to pay her everyday living expenses and medical costs during her recovery until she is back on her feet, cutting hair and making people look and feel their best!
Sande's expenses will be massive and she is so overwhelmed by it that she isn't focusing on what she needs to focus on which is healing! Please help me help her to ease her burden and know that "her people", as she loves to refer to us all, are going to come together in her time of need and ease that burden.
Any amount will help. I can assure you that her gratitude, (as well as our whole family), will be limitless and not forgotten.
Please keep my Sister in your prayers as she fights one of her toughest battles.
THANK YOU!!!
Dented Sister Saints
Dented Saints with their gifts drawn.
A not declaration on the urban battle lawn.
Daily grind wars on swollen feet.
Conflicts on who to feed.
Bake sales, overtime and
vacations watered down.
Daytime burdens
making ends meet in a small town.
Still no complaints…not a sound.
Never a lit candle to beckon on the pain.
Punctured Princess has no time for the…
earnest fame.
Faded blue jean feminist where is your badge of courage?
Waiting at the empty table…
with your tip.
In a bottle to which you no longer sip?
Or, placed in a memo…
along with a grocery list?
Praise be to the Dented Saint.
Sisters everywhere…
the ones who mend the socks
cut the hair.
The pretend Dad…
when Dad is not there.
Heavenly let your light shine down on me.
Sainted Sister…
heaven knows those battle scars
were received on bended knee.
Sometimes, as woman, I need to focus on being the best I can be, today.  Not yesterday.  Not tomorrow.  Not next year…Just today                             -Randomwordbyruth