Why Do Cats Bite?
Here are the scientific reasons:
the are into aggressive play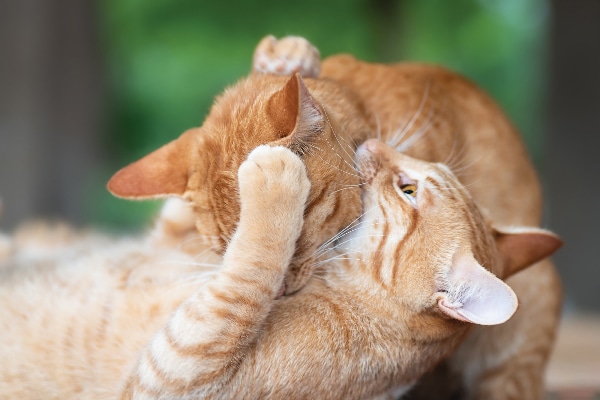 Now those are some obscure scientist's life long research thoughts. Research done with data, one on one observation and number crunching. All of which is just wonderful and nice. However, these scientists never owned a cat and does not wish to add personal thoughts.
I am not a scientist. I went to a liberal arts college. I have owned cats (or, I should say, they have owned me) for many, many, years. Here are my thoughts on why kittens and cats bite:
Cats bite us because we are intrusive.
Cats lash out at their one true love, the human, because the shitter is not immaculate.
Cats secretly sharpen their fangs at night…while we are asleep…for the simple reason…they want the upper hand.
Cats lash out when we poke the puppy ( a saying from my house of woes.)
Poking the puppy is a blanket term. To poke the puppy/cat/kitten…
The human witnesses their animal friend, sleeping, snoring, casually chasing a headless chipmunk. The human is so overwhelmed with the feline's cuteness. So transfixed are the two legged buffoons. So in awe at the one and only chance to 'spaz' the cat out…the human lashes out…poking the cat in the belly.
Let us be honest here. Poking the puppy and/or cat is similar to Pavlov's dog. A piece of sweetness is dangled in front of us. It is furry and purring and being the Cat god they are. Alas, the human will go back every time for a 'poking' because the untold results are just too adorable to pass up!